Hello! INightmarel here! I'm just filling in for CrimsonEagle for a few posts while he is away with no device, and I'm harsher criticizer than him, so be warned!
Anyways, onto the review!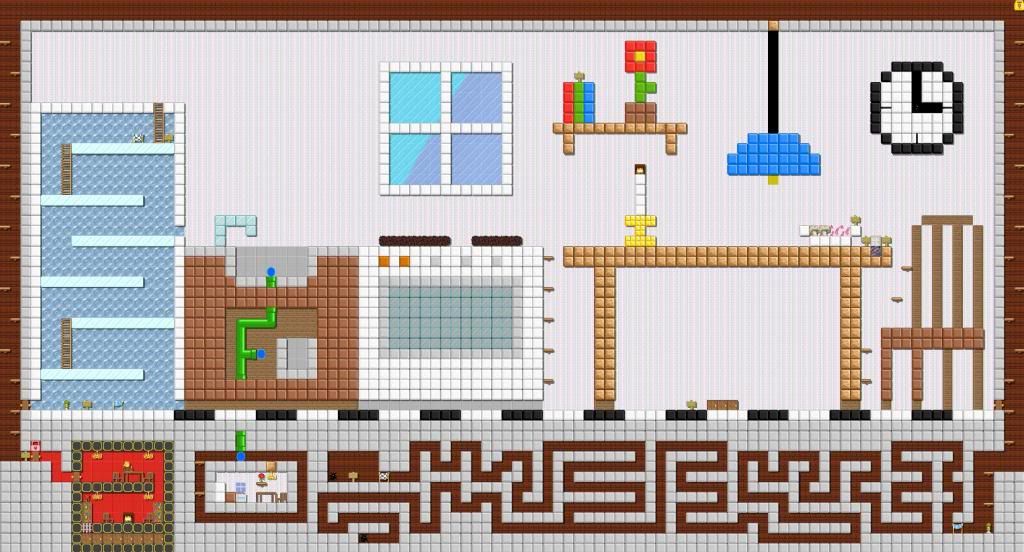 Kitchen by Jens (or @Jens) took my breath away when I entered there. The world has giant pixel art of how a kitchen room would look like.
Ever wanted to shrink and explore hidden areas of your kitchen? Now you can do it in KITCHEN with no added magic to make you shrink!
There's a delicious bowl of mushrooms and bacon on the table (which I enjoyed bouncing on even though my mother told me to never play with my food), and the whole world is fully furnished with wallpaper.
I enjoyed sliding in the fridge, the bubble wrap and ice in there adds a nice touch. I recommend a jumper if you're going into the fridge! ;)
I finished it in 12:74, only a few seconds off!
The sink is probably the most realistic interactive object in the Kitchen. It feels like you get sucked down the plug hole and go into the inside pipes of the sink. Wish Seth invented a way with water; wouldn't it be cool if water came out of the tap?

I have no idea which giant pixel art was my favorite. There's a giant lamp, a stove (which looks very alike to the mini stove we Growtopians have), a candle, a window and lots more!
I loved the maze and its tricks (I'm not saying the tricks!) though I wish it was a bit harder. A bit of music would also add a nice touch to the world, though it may ruin the wallpaper (I bet some users (that includes me!) mute their device and don't mind the silence of the world)

This world is definitely a place to hang out if you're a pixel art sucker and perhaps want a bit of 'peace out' time. I give this world a 9.5/10!
-INightmareI